<![if !vml]>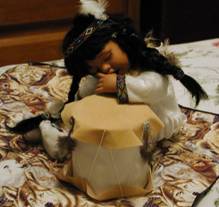 <![endif]>
"Little Star Jr." Asleep on His Drum
Little Star Jr. lives here now
He plays a little drum
His desire is to feed the good wolf
Not give the bad one, even a crumb.
He hopes when he plays his little drum
The bad wolf will be scared away
Then he'll feed the good one
By the way he lives, each and every day.
As he listened to Grandfather and Little Bright Star
One thing he understood
The bad wolf would go away
If he lived the best he could.
However Grandfather talked on and on
Till his words became a hum
And Little Star Jr. became so weary
He fell asleep on his drum.